Feature: Ex-TTE Toyota Celica GT-Four
1st December 2017, 2:03pm
by
If ever you get a hair-brained idea that you'd like to steal an ex-works Group A rally car you might want to think again?
Unless you sit close to the spectrum, love "counting cards" or numbers on buses, the starting sequence might do your head in? Remembering each of the six steps, and in the correct order, could well be more difficult than actually getting the 1990s WRC weapon off the line, but I'm sure I'll give it a go given the chance! Stuart Bowes is one of the best-known rally photographers in Australia and overseas, and one whom the RallySport Mag team helped along the way in his early years. Having spent 25 years covering the Australian Rally Championship (ARC) and jetting around the world shooting WRC, F1 events and motor shows, in between times, and with his brother Angus, he's fronted Broons, a successful earthmoving equipment manufacturer and rental business based in Adelaide. Stuart says he's now "sort of" semi-retired from rally photography, and has decided to finally get back behind the wheel of a rally car "before the years march on any further" – something that he hasn't done since driving a Group G Datsun 1600 in the 1980s. "I've had a few long chats with Jeff David about classic rallying and I reckon he's spot on about making some decisions and doing what you really enjoy," Stuart says.
"I've been very fortunate to have been able to accumulate the resources to enjoy my passion, and I'm forever grateful for the wonderful opportunities that have come along over many years."
The mighty "Datto" still sits in a shipping container at the Broons yard (and could well see daylight again in 2017), but with money in the bank, Stuart decided that he was going to chase a car that he never actually believed he could even contemplate owning – an ex-works Toyota Team Europe (TTE) Celica GT-Four. As Toyota's official rally photographer in the ARC for many years, the Toyota passion burned brightly and so the search began…. "I started looking seriously in 2007," says Stuart. Countless trips to Europe (where the Broons work often just happened to align with his motorsport interests) and after looking at numerous cars, he started to hone in on his objective.
"Group B was never going to work for me. I love the cars and I remember watching them on the WRC in Europe, but they are very expensive to run and maintain, plus they were never campaigned in Australia.
"Anyone who's got a real one will tell you they're fantastic to drive, but a bottomless money pit if you intend to use it. "The latter years of Group A was every bit as impressive as Group B for action, and I was right in the thick of it taking the pictures. They might not have had the outright grunt, the big wings and Kevlar body panels, but the handling and performance made up for it, blitzing the stage times of the old days. "No doubt about it, they were quick for sure. The cars were getting modified to such an extent that they barely resembled the road car under the shell, and of course this led to the start of the World Rally Car formula we see today." But what really attracted Stuart to these cars was the fact they were based on a road car sold to the public. "It's the last time a manufacturer built a production special just so they could compete in the World Championship, and so my passion became buying not just the genuine ex-works factory rally car, but also the matching road car, so I've got the pair and I've made a lot of progress!" he says.
"I'd been searching for a genuine car that was in pretty much original condition, but just about everything out there has been modified so much over the years that it is only a hint of the car that emerged from the TTE factory in Cologne, Germany.
"I made contact with a guy in Europe who had one of Kankkunen's cars for sale, but he had sold it just before I got a chance to take a look. "A couple of weeks later he dropped me a note to say he had a second car that he didn't really want to sell, but it was perhaps the most original ST205 Celica from TTE, and the third to last one built, so I changed my travel plans and went for a look." A deal was done and once the import permit was arranged, it was on the water heading for Australia. "I went to Germany for 24 hours to wash the car and pack it in the container - I knew what Australian quarantine was like given our years of experience shipping machinery all over the world, so I didn't want to take a chance. "I drove it in, shut the doors, and 10 weeks later I opened the doors, started it up and backed it out right here in Adelaide - it has to be one of the highlights of my motorsport life - I still smile when I think about it.
"I never thought I could do it, but I made it happen. I'm like a dog with a bone when I focus on something."
Parked at the Bowes workshop in South Australia, the car is pretty well as it arrived from Europe and is as genuine as you could find. Whilst the ST205 Celica might not have the WRC cred of the previous ST185 that won a couple of world championships, it is the better performer and much of the technology carried over to the Corolla World Rally Car. "The anti-lag system and Hang-On Clutch (HOC) is leading edge for the 1990s - flick the switch and hang on. But I'm not sure I'll ever master that," Stuart says. "Unfortunately, the only original item missing is what makes it one of the most infamous of all rally cars - the modified turbo restrictor - for those who remember the events which led to Toyota being banned from scoring points on the WRC. "Never before had a team been banned from an FIA series, but subsequently McLaren has since joined this very small club a few years back." The car is currently adorned in the Marlboro livery that former factory driver, Freddy Loix, used in the European Rally Championship during late 1996, but the car has a long history worth briefly recounting. In the Castrol colours for which they are most well known, the car was used by the indecently fast German lady, Isolde Holderied, in the 1997 Monte Carlo Rally, and was then driven by Mattias Kahle to win the 1997 German Rally Championship. But undoubtedly, its final official TTE event was it's crowning glory. In December of 1997 the car was used in the Race of Champions event in the Canary Islands, where no fewer than nine former World Rally Champions drove the car. Carlos Sainz won the event in the exact car now owned by Bowes, beating Colin McRae, in an identical Celica GT-Four. Incredibly, Neal Bates also drove the car in his only appearance at the ROC.
Along with Sainz and McRae, at the ROC the car was also driven by former champions Bjorn Waldegard, Hannu Mikkola, Timo Salonen, Stig Blomqvist, Didier Auriol, Walter Rohlr and Miki Biasion. WRC event winners, including Michele Mouton, Armin Schwarz, Gilles Panizzi and Kenneth Eriksson, also took the wheel in the event.
Whilst the car only contested one round of the WRC, it was the most famous of them all, Monte Carlo. The fact it also won the German Championship and was later driven by nine former World Rally Champions simply adds to its value in the years ahead. "I have the TTE car body record to prove the provenance," Stuart says. "It's the real deal." The car is still in the Marlboro colours, although Stuart thinks that eventually he'll convert it back to the famous Castrol colours that the cars become synonymous with, and in which it spent most of its life as a works car. Since the car arrived in Australia it's only done a couple of track days, but recently Stuart had it over in the Neal Bates Motorsport workshop for a thorough going over, before Neal, Stuart, and his brother Angus, took the car to Goulburn's Wakefield Park race circuit to put it through its paces.
"Compared to your daily drive, it's incredibly expensive to run," Stuart stresses, "… around $40 a lap I worked out, but it is worth every cent.
"Considering it's been over 20 years since Neal drove one of these cars he jumped straight back in and was right on the pace from the first lap." In the future the car will be kept solely on tarmac, but there are plans to enter it in some tarmac hillclimb events, as well as at some track days. "Neal and Darryl (Bush) were both keen to point out they're a lot of fun for sure, but keep in mind the wear and tear the more you do. "It's a full-on works car and parts are limited, but we've struck up a good relationship with Erik Wevers in Holland, who owns the entire spare parts stock from TTE, and only serves those who own the genuine cars." Between running the family business, driving the Celica and competing in his recently-finished Mercedes Benz 450SLC, it doesn't look like Stuart will have much time for rally photography any time soon. Not that he's too concerned.
"I like to tell people I spent more than 25 years taking hundreds of thousands of pics and travelling the world at someone else's expense, but I'm over it. I probably couldn't care if I never pick up a camera again.
"The time pressure is enormous, everyone wants everything instantly or faster, and I'm just not interested - the world doesn't need to move that quickly, regardless of what people think, so I've decided to slow things down a little – well, not too much when it comes to the cars!" With a purpose-built rally workshop nearing completion, any spare time is likely to be spent tinkering on rally cars, or scouring the world looking for the next "must have" historical piece. "I've got a real surprise I'm working on and hopeful it will come to fruition. I've been chasing this car for some years and I've had a tip off I might be close to securing it. "For sure it will be the only one in this part of the world, and one of only a couple left in existence," Stuart says. We could think of few better ways to spend our time.
Car History:
Built Aug 1996 Nov 1996, F. Loix, Condroz Rally – ERC (Marlboro) 1st Jan 1997, I. Holderied, Monte Carlo – WRC (Castrol) 8th Feb 1997, R. Verreydt, Spa Rally – ERC (Marlboro) 1st Mar 1997, M. Kahle, Sumava Rally – ERC & ADAC (Castrol) Ret April 1997, M. Kahle, Pneumant Rally – ADAC (Castrol) 1st May 1997, M. Kahle, Havelland Rally – ADAC (Castrol) 1st June 1997, M. Kahle, Deutschland Rally – ERC & ADAC (Castrol) 1st Aug 1997, M. Kahle, Hunsruck Rally – ERC & ADAC (Castrol) 1st Oct 1997, M. Kahle, 3 Staate Rally – ERC & ADAC (Castrol) 3rd (Kahle Won German Rally Championship) Dec 1997, Various Race of Champions – Canary Islands (Sainz won the event in this actual car beating Colin McRae)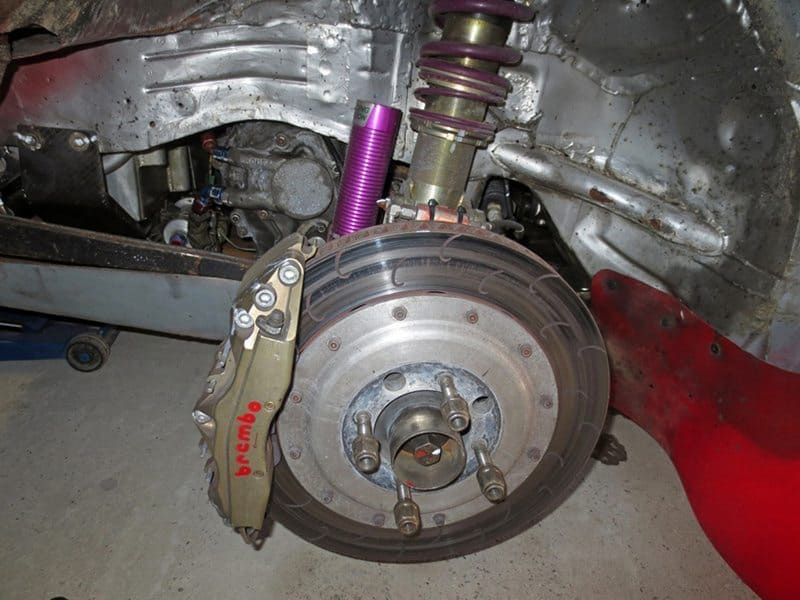 Related news:
https://rallysportmag.com/back-on-track-with-legendary-toyota-celica-gt-four/

VIP Exclusive Content

Get full, exclusive access for only $6.55/month.
Full access
Exclusive news
Store & Tour discounts